Holiday Homes
Right inside, not just nearby …
Key information For 2 guests
2-room apartment: approximately 60 sqm
Price per night: starting from EUR 79.00
Minimum stay: 2 nights
Final cleaning: EUR 50.00
Facilities: kitchen, TV, WiFi, lift etc.
Apartment description
This 2-room apartment will offer you an unforgettable stay in Baden-Baden. The apartment is about 60 square metres in size and located on the third floor of an apartment building.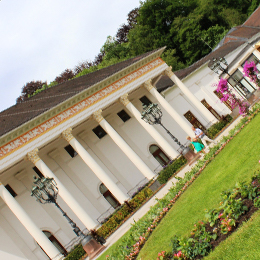 The apartment can be easily accessed by lift. It is situated at Augustaplatz, opposite Congress Centre and next to the city centre. In the same building there is a supermarket where you can buy tasty fresh bread rolls for breakfast. The avenue Lichtentaler Allee is also nearby, inviting you to go for a romantic walk. The Kurhaus and many other places of interest are also within a stone's throw. All these places and the city centre are within easy walking distance. After exploring the city of Baden-Baden you can relax in the apartment in the evening. The bathroom has a level access shower. The open-plan living and dining area is furnished up to date and leaves nothing to be desired. The fitted kitchen allows you to prepare a small meal, have a glass of wine at the bar and talk about the day you have enjoyed in the famous resort of Baden-Baden.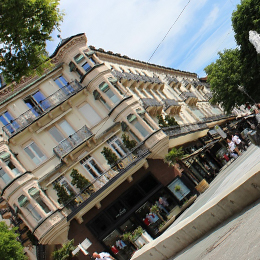 For private stays a visitor's tax is charged, currently EUR 3.50 per day and per person. This tax has to be paid cash upon arrival when the keys are handed over. In addition, an amount of EUR 50.00 is charged for final cleaning of the apartment. Check-in can be arranged at any time around the clock, including night-time.
Surroundings
The city of Baden-Baden is a popular international resort with thermal springs and high level hotels. Its favourable location, mild climate and saline springs invite you to relax. Here you will find whatever your heart desires. The apartment is only a few minutes' walk from the avenue Lichtentaler Allee. There are excellent bus services nearby and the shopping area is within walking distance. Perfect for a car-free stay.